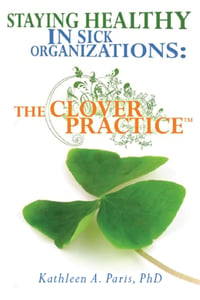 $

15.99
Even in a high-stress workplace, you can feel peace of mind at the end of the day. Even in an organization that is designed and managed on obsolete principles, you can maintain your integrity and honor. We don't have to wait for other people or "the system" to change to have healthier work lives ourselves.
Staying Healthy in Sick Organizations: The Clover Practice™ by Kathleen A. Paris, PhD, will show how to survive professionally and emotionally in work environments that are likely to be unhealthy.
A real world approach, the Clover Practice™ can be used every day and in every workplace in America, and will also help you recognize when it's time to leave and move on. With clear directives and tools for how to be truthful, speak for one's self, and recognize the interconnections that influence our success as well as our problems, this guide provides an elegant metaphor for change and a toolkit for survival.
Want your book signed by the author? Send a message to kathleen@kathleenparis.com immediately after ordering and indicate what message you would like inscribed in the inside front cover.

Shipping: one book is $6.50, multiple books are $5.00 each.
Wisconsin residents will be charged 5% sales tax on this item.
Tax exempt and bulk orders
For non-profit tax-exempt organization purchases or bulk order prices (5 or more) contact kathleen@kathleenparis.com directly.